April 29, 2019
Platinum Ambassador Profile: itchy-O
Insight into the power of collective performance, anonymity and what to expect from the annual May 4 Sci-Fi Bash. (left photo: Studio Apocalypse)
Denver-based itchy-O are an enigma. More of an experience than a "show," the 50+ member ensemble dissolves the barrier between audience and performer in electro-percussive chaos that spans well beyond the stage.
Take their sold-out New Year's Eve event, which began with a drum line leading the procession into the Oriental Theater to welcome 2019 by celebrating around a giant cosmic effigy known as the Hagahrath. Or the recent weekend up at the legendary Stanley Hotel, which invited the audience to participate in a ceremony celebrating the birth of the Milky Way, complete with intergalactic creatures – and giant flamethrowers.
So, in advance of their return to the Oriental Theater this Saturday, May 4 for their Annual Sci-Fi Spectular, we caught up with the newly minted Platinum Music Ambassador for collective insight into the magic behind the mask.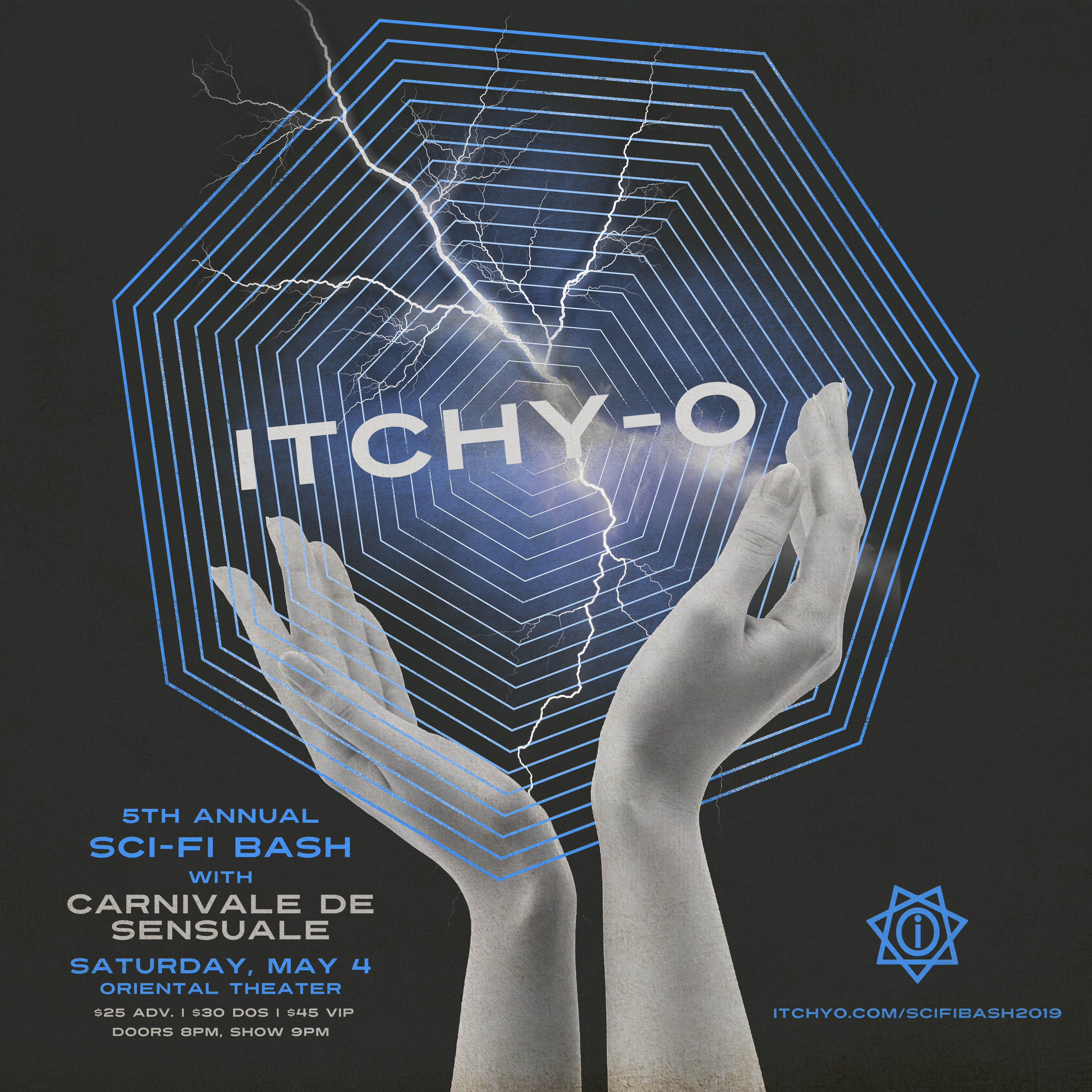 Broadly speaking, who or what is itchy-O?
An ever-evolving experiment centered on the collective human experience, explored through music, dance, participation, and high-voltage pyrotechnics. Evocative and provocative, attendees are invited to ascribe their own meaning to the performance.
One might liken it to dark energy or dark matter, in that it definitely exists, but is definable only by studying the effects it has on other galactic bodies. That's appropriate, as we're celebrating the sixth year of our Sci-Fi Bash, featuring special effects right out of Frankenstein's laboratory and a costume contest where we're giving away a slate of prizes including passes to Denver Pop Culture Con (formerly ComiCon) and the Telluride Horror Festival.
What specific equipment did you donate to Youth on Record?
Itchy-O recently cleaned out its archives and was honored to pass on a behemoth sound system, rack effects, various wireless gear, guitar amps, rack cases, and other odds and ends. We could have sold the stuff but handing it down to YOR was much easier and certainly felt like the right thing to do.
Why is YOR, dedicated to empowerment through music education, an important organization to support?
Finding your own voice is a powerful thing. And when it's part of a collective effort, that's amplified – the whole becomes so much more than the sum of its parts. That's an ethos central to itchy-O, and to Youth on Record. Being from Denver, we're of this community and want to be a force for good, to pay it forward by donating to the transformative music for the next generation. Providing resources for the city's soon-to-be-up-and-coming artists is a no-brainer investment. It's proven, if you want a city to flourish you feed the arts and the rest will follow. Providing resources to young artists at YOR  is genius-smart in so many ways and we are absolutely thrilled to help.
Anonymity and collective identity are central to itchy-O's mystique - why is this so important/effective?
"Mystery provides a beautiful corridor," David Lynch.
All of itchy-O's members are credited in published works, however at events and performances members' faces are hidden and their are no "stars" to this show. It feels much like some sort of spiritual heist where the unassuming assemblage soon become part of the organized mayhem. This makes for an exciting and powerful experience and is especially poignant in an era in which so many clamor for attention and exposure in all facets of the media.
Who are other Denver musicians you're into right now?
So many great bands… we're big fans of Slim Cessna's Auto Club and their sister project DBUK. Church Fire is a band we love playing with, SPELLS is the funnest punk rock show you will ever witness, and Lost Walks puts on an amazingly artful production; they're also doing important work conservation work with the with Rocky Mountain Wolf Project.
What other shows/future plans do you have?
Our next show is down in Santa Fe at the Interplanetary Festival. We are also planning a Fall tour and have big plans brewing for 2020 and 2021. Stay tuned on that.
How can someone support itchy-O?
In addition to taking part in our live events, we've got a Patreon page that gives members access to perks like live-streams of select performances, insight into our legendary crashes (where we descend upon unsuspecting crowds for spontaneous performances), rarities, oddities, and other exclusives.