Tebe Zalango and Zanib had a unique approach when it came to creating a song for the YOR Session. It started off as one melody played through a violin. Then Tebe and Zanib started to layer over the looped melody and created a rich full structure of violin strings. Combined with Tebe Zalango's uplifting verses and Zanib's powerful voice they created a beautiful song that you will be able to listen to in YOR Sessions Vol. 3.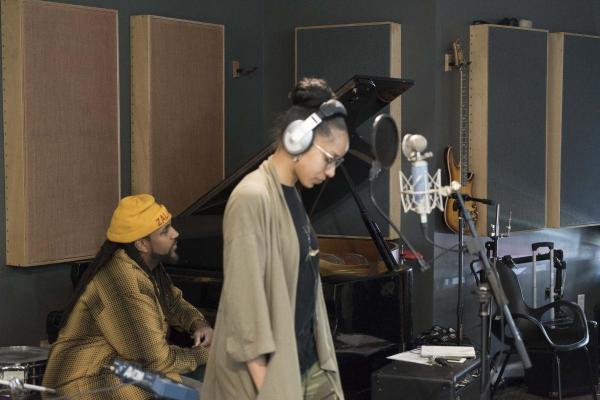 About Tebe Zalango & Zanib
Inspired by Antonio Vivaldi's 4 seasons, Tebe Zalango started violin lessons in early elementary school. Listening to all forms of music, from Hip Hop, R&B, Reggae, and Classical - he formed his sound around rhythms of his own soul. With Dynamic lyrical ability and vocals that have literally brought fans to tears, he seeks to inspire creativity and spiritual growth through higher awareness. With songs about Love, Respect, Appreciation, Justice, and Loyalty, Tebe is proving to the youth that you can be a phenominal artist without promoting self-destruction. Tebe Has traveled and studied the Mayan Pyramids in Chichén Itzá Mexico, as well as the churches of Lalibela in Ethiopia. Being a world traveler, Tebe brings insight from many cultures. From the Church to the street, Tebe's Target audience represents those who consider themselves students of life who want to learn and grow.
Zanib
Zanib aka Tanya Salih is unique to her nubian heritage through her style, sounds and creations. Zanib is an arabic name that represents growing dreamer. Throughher mystical mindset, she creates sounds that spread messages of positivity, hope and love. Her music represents her journey through this life. She is a singer songwriter who uses vocal techniques to express the emotions driven from the soul. Her vocals are influenced by old school soul artists. She brings a new sound that is identified as upbeat supported by the ukulele, a classic sound when she brings her violin on stage and optimistic vibes through her lyrics. Zanib's diverse background and passion for the world and travel are portrayed through her sounds. These elements combined makes the styles, sounds and techniques of Zanib one of a kind.