January 3, 2022
Spread the Word about New Free Youth Mental Health Sessions
In October, the Colorado Department of Human Services, Office of Behavioral Health launched I Matter, a program that provides up to three free counseling sessions for any Colorado youth. Youth and their parents can visit the I Matter platform to take a confidential online survey about their mental health and schedule sessions with a licensed behavioral health clinician, primarily via telehealth. All Colorado youth ages 18 or younger—or 21 and younger if receiving special education services—are eligible to receive free services. Youth 12 and older can sign up for counseling sessions without a parent or guardian's consent. More than 700 counseling appointments have been scheduled since I Matter launched. The growing list of participating I Matter therapists numbers 64 clinicians. 
The program name I Matter and all the campaign visuals were informed by feedback from youth across the state. A Spanish version of the I Matter site will be available by the end of November, and the program has clinicians who can provide services in Spanish. Another easy way to share news of this important new resource for Colorado kids is by sharing these social media graphics. Due to the incredible response to our initial rollout of free print marketing materials, such as rack cards, posters and stickers, we are pausing orders for the moment. We will send out a note via the Office of Behavioral Health newsletter when you can submit an order. 
The testimonials from families who have already experienced I Matter are starting to come in. Here is one of our favorites from Melyssa, a parent in Fort Collins: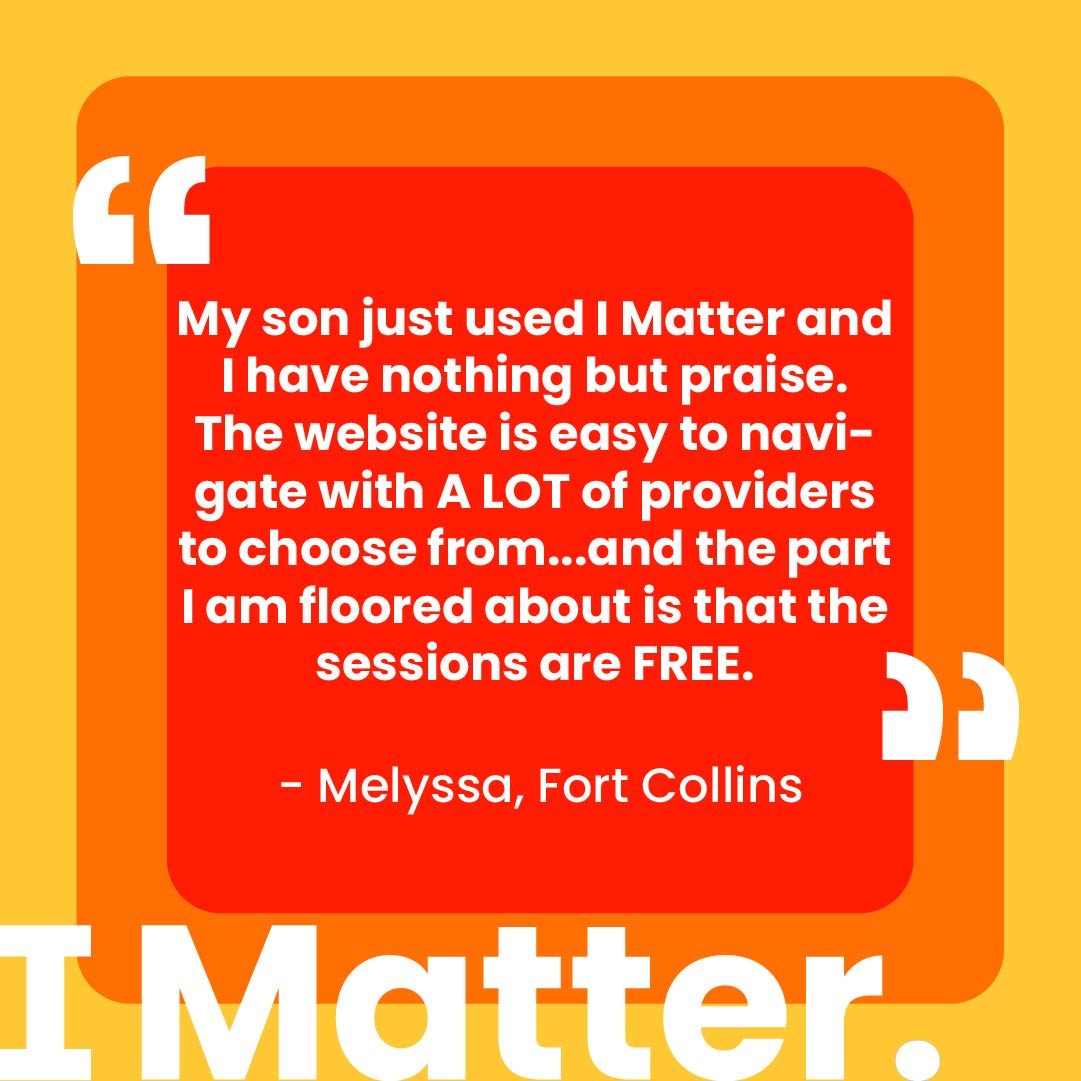 My son, who is a high school freshman, just used the service. I have nothing but praise. Starting with the website: it is awesome from a user experience. Easy to navigate and book online with a lot of providers to choose from. Clear communication about what to expect and when the appointments would be. Then, the part I am floored about, is that the sessions are free. 
I literally spent six weeks trying to find counseling services locally for my son. I even had a list of resources I reached out to via email and phone calls. There were delays, with a lot of relaying of personal information before being told there wasn't availability, or that we would need to do prescreening for $250 and then another $150+ per session when times opened up.
I get it - there's a mental crisis happening across the country and therapists are struggling to keep up. But all that changed when Kailee at Restore (a restorative justice program) told me about I Matter. Within minutes, my son had booked an appointment and within days, had his online appointment. 
I Matter is providing an invaluable service and I want you to succeed! 
I Matter has care navigators available who can help youth following their three free sessions, and, where possible, connect youth with providers who accept Medicaid or their private insurance. When children are uninsured, care navigators have resources for these families as well. If you have questions about the program, please email laura.gabbay@state.co.us.