February 7, 2018
For the Record: 303 Magazine + Vinyl Me, Please collaboration release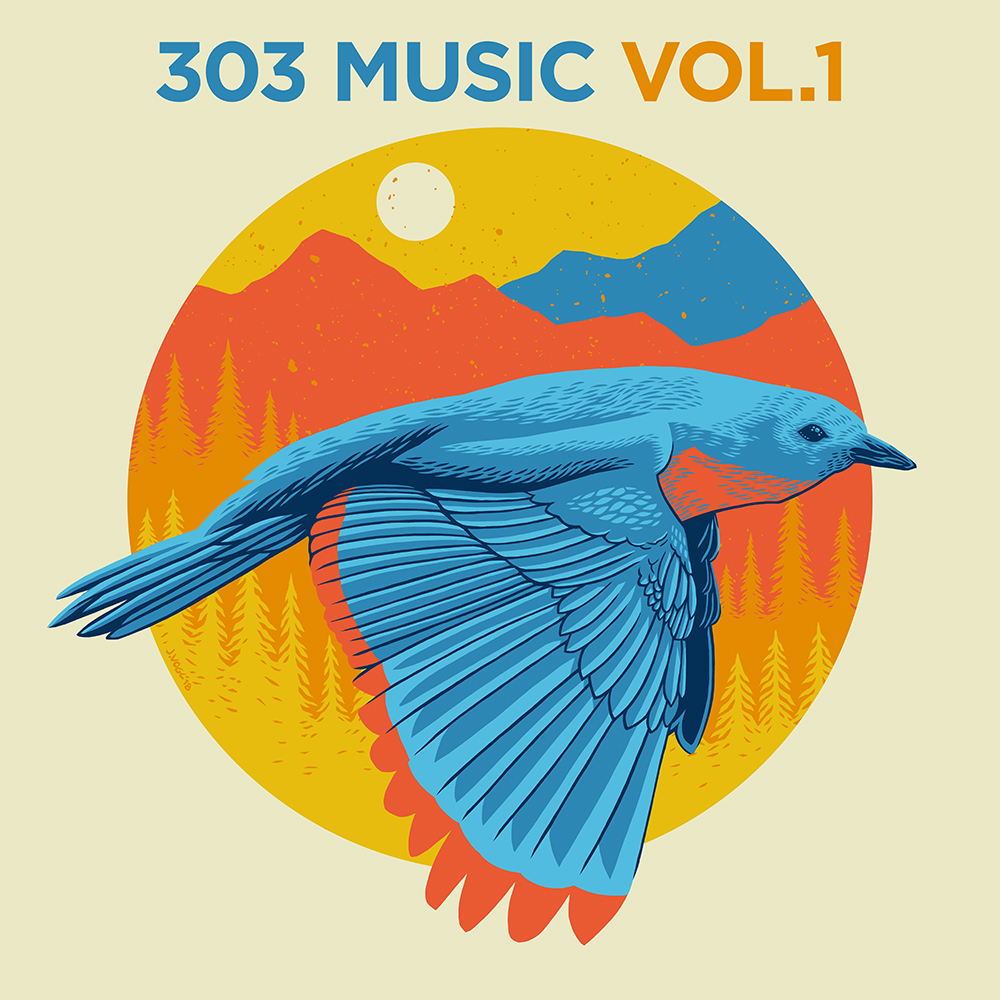 On the surface, the idea sounds straightforward: Release a vinyl album with Colorado musicians, benefiting a Colorado nonprofit.
But dig a little deeper, and you start to understand the transformative power that creativity can have on a place.
"When we started, we really wanted it to be a community project, extending beyond just the music," said Tyler Harvey, Project Manager and Music Desk Editor at 303 Magazine.  
And when it came time to choose an organization to work with, the choice was clear.
"The value that somewhere like Youth On Record (YOR) brings is just amazing," he said "And of course we love the musicians already involved there, but it's really the partnerships that make the difference. They were the first place that came to mind."
In conjunction with subscription-based record club Vinyl Me, Please (VMP), the 12-track album 303 Music Vol. 1 features local luminaries like Flobots, Trev Rich and Wildermiss, with 80 percent of proceeds benefitting YOR.
"I hope people walk away from this this project knowing there are so many incredible musicians living and working in their midst," said Cameron Schaefer, Head of Music at VMP. "Getting to work with other Colorado organizations who share a similar passion for music is not only a joy for us, but important to the scene in general."
That's a common sentiment, as Harvey detailed the collaborative nature of the project. The magazine's staff writers initially picked about 60 of their favorite songs by Denver artists; this was eventually narrowed down to 30, which then were sent to VMP for an outside perspective and final curation.
"[VMP] has been incredibly supportive and great to work with throughout," said Harvey. "They were immediately on board and okay with whatever we wanted to do – when we asked about doing splatter on wax, they said 'Yeah, we can do that.'"
Another added element? Cover artwork by noted Denver artist John Vogl, who's designed pieces for Phish, Spoon and album-featured artist GRiZ.
Together, the tracks on 303 Music Vol. 1 represent a diverse cross-section of music that may start locally, but extends far outward – and inward – to transcend boundaries.
"Music is part of the DNA of any culture," said Schaefer. "Developing a local scene is one of the most effective ways to bridge different groups of people and help communities flourish."
And though undoubtedly many will be drawn in by contributors like Gregory Alan Isakov and Esmé Patterson, it's also the chance to discover local up-and-comers that may soon become new favorites.
That's because, like what happens at YOR, the unexpected encounters are the ones that can have the greatest impact, serving as a collective catalyst for something much bigger.
"An album is a piece of art," said Harvey. "You bring it into your home; you listen to it and experience it. People forget about how powerful that can be sometimes."
303 Music Vol. 1 is available for presale now with an official release date of May 18, 2018. The release coincides with a release party at The Church Nightclub the night before (May 17), featuring a local music artist showcase and access to early purchase of the record.