December 14, 2018
Fuicelli & Lee Supports YOR
Fuicelli & Lee recently made an extraordinary donation to Youth on Record. They contributed the funds in honor of a client who tragically lost his life, at age 30, in a car accident two years ago.
Mitchell Vandenburg, born in Loveland, Colorado, had risen to a level of national fame as a musician with several Austin-based bands. In October 2016, he and a bandmate from the band Porter and the Bluebonnet Rattlesnakes died in a car crash in North Carolina while on their way to a gig in Maryland. A semi-truck rear-ended the band's van in an area of backed-up traffic, and officials reported the cause as distracted driving. The driver was charged with two counts of misdemeanor death by motor vehicle.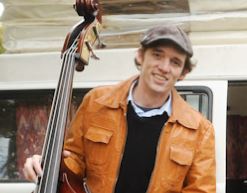 Mitchell Vandenburg
Fuicelli & Lee represented Vandenburg's family and, in October of 2018, reached a $320,000 settlement with the insurance company. Due to the nature of the case, they drastically reduced their fees as a service to his family.
In Vandenburg's honor, they donated $10,000 to Youth on Record. His family wants people to remember Mitchell for his musical talent, his enthusiasm, and his love for life and family.
We had a moment to show Keith Fuicelli around Youth on Record and get to know more about him and why he chose to support YOR
Andrea: Tell us about your firm, values, mission, etc.
Keith: Fuicelli & Lee are trial lawyers who act as advocates for people who have been injured due to no fault of their own. Our service goal is to treat our clients the way we would want our parents, siblings, and children to be treated.
Andrea: Why did you choose to support Youth on Record? 
Keith: We recently represented the parents of a young musician named Mitchell Vandenburg who was tragically killed in a highway accident involving a semi-truck while he was on tour with his band, Porter and the Bluebonnet Rattlesnakes. In Mitchell's honor, we wanted to donate a portion of our fee to a music-oriented non-profit that would impact the lives of young musicians.
Andrea: Why is music important to you?
Keith: Music has always played a big part in my life. Before I became an attorney, I played bass in a local band for several years. I understand firsthand how playing music can teach perseverance, and how much it can impact who you are as a person.
Andrea: What are your thoughts on the access or lack of access, that our youth currently have to arts programs in our schools?
Keith: It saddens me to see schools drop art & music programs. These are skills that should be nurtured and encouraged. So many underprivileged youths in Denver have undiscovered talents and have not had the opportunity to explore them.  It is reassuring to know that programs like Youth on Record are out there doing everything they can to provide a musical outlet for kids to discover these unknown talents living within, cultivating confidence, discipline, and fortitude.
Andrea: Are any of you musicians?
Keith: I still pick up the bass every now and then! My office manager also plays guitar.
Andrea: What was your first concert?
Keith: U2-Joshua Tree Tour
Andrea: Who are you currently listening too?
Keith: Coldplay, John Mayer