May 11, 2021
DBJ's 40 under 40 | Jami Duffy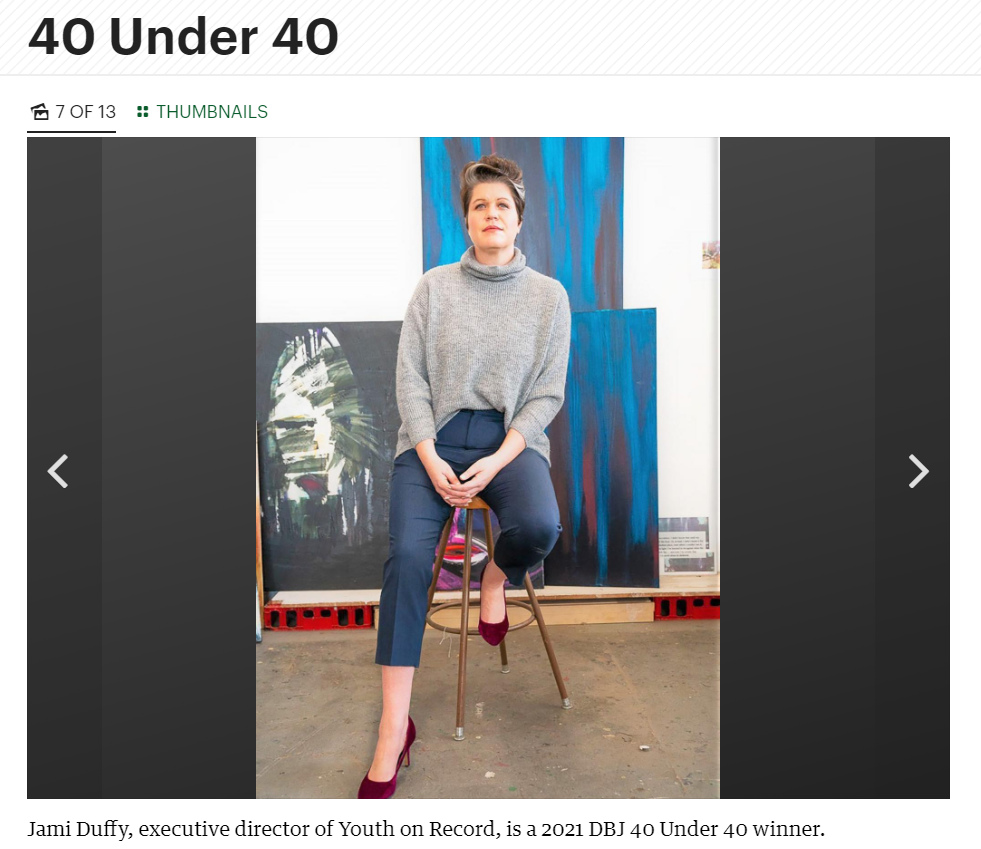 Jami Duffy joined Youth on Record as executive director in 2009. Under her leadership, the art-and-education-focused nonprofit has experienced 1,200% growth. During the past year, Jami and her colleagues have converted their studio to a virtual platform and continued to care for their team amid the global pandemic, racial uprisings and civil unrest.
Jami has participated on panels before the National Endowment for the Arts and the U.S. Department of Labor, and is a sought-after expert on youth development and mentoring for Denver's most vulnerable youth.

Age: 39
Title: Executive director
Organization: Youth on Record
Alma mater: University of Denver
Hometown: Castle Rock
Neighborhood: Baker
Secret talent: I have supported as a doula in five births; I am a virtual abstract artist; and I have done stand-up in public on two occasions.
Not-so-secret talent: Being an "Anam Cara," or soul friend, to many; a well-timed joke; speaking truth to power.
How talents are used in career: I would say that I am invested in the well-lived lives and North Star journeys of my team; I encourage a culture where we laugh at ourselves and the world around us; and I'm not afraid to challenge inequitable practices in the nonprofit sector.
Skills developed that don't come naturally: I have learned to be a key financial steward for my our organization, which has supported in our 1,200% growth under my leadership. I don't balance my own checkbook — but our financial sophistication, transparency and stewardship at work is top notch.
Denver's best-kept secret: Our young people — especially our young, talented artists. They are brave, vulnerable, visionary game-changers. Watch out, world!
TED Talk topic: "The Nonprofit Hunger Games"
Proudest accomplishment of past year: I am most proud of the way I (and my colleagues) have cared for our team amid a global pandemic, long overdue racial uprisings, and civil unrest.
Big 2020 move: I released an open letter to foundations about unnecessary harmful practices that burden nonprofits. It's become quite the buzz in our sector, and has resulted in some foundations changing their practices.
Next big move: This is top secret — but keep on the lookout for big announcements.
In rotation: "The Future of Humanity: Terraforming Mars, Interstellar Travel, Immortality, and Our Destiny Beyond Earth" by Michio Kaku; "All the Single Ladies: Unmarried Women and the Rise of an Independent Nation" by Rebecca Traister.
Volunteer work: Recently I've been working with public health officials, private citizens, elected officials and business owners to advocate for unhoused community members and to stop the sweeps.
Advice for future 40 Under 40s: Leadership "norms" are changing. Show up as your full, true, authentic and whole self as much as possible.
To view all of the winners, click here