March 15, 2019
New Music Ambassador The Trujillo Company Wins Over Audiences, Donations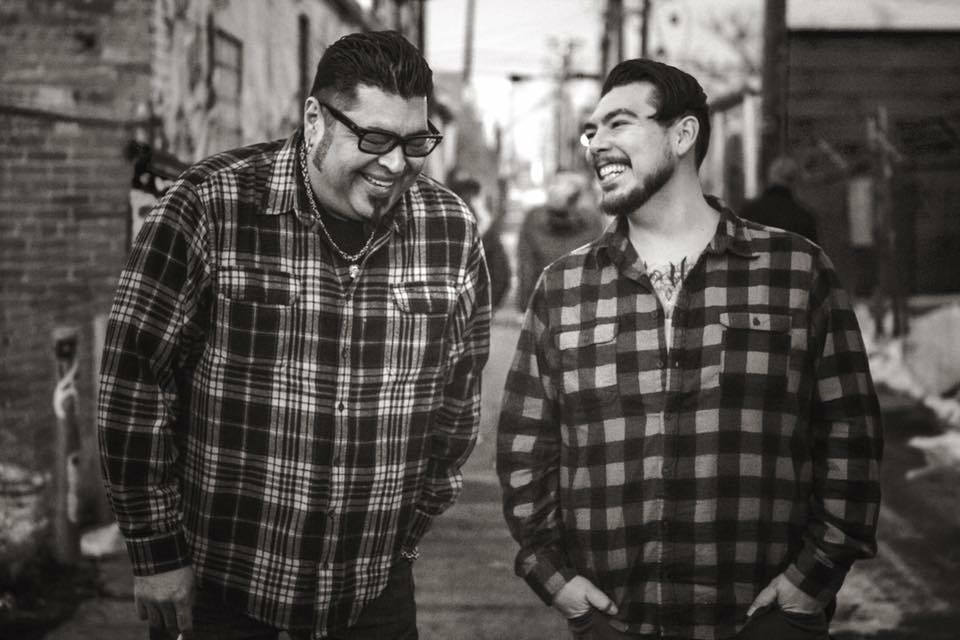 The Trujillo Company is one of Youth on Record's newest Platinum Music Ambassadors. Last year, the fledgling rock duo donated 100 percent of its earnings from performances at Globe Hall and Summit Music Hall, raising $1,200 for Youth on Record's cause.
As frontman Mike Trujillo knows, a good rock song can win people over. Led Zepplin's "Immigrant Song" stole his heart more than 20 years ago, at the age of 15. Upon hearing the legendary track, he longed to play guitar and sing. Now, in 2019, he is quickly winning over local audiences with his brand of heavy, melodic rock, carried by drummer Leny Trujillo.
Mike and Leny aren't related, despite sharing the same last name. But they might as well be brothers. They met at a birthday party one night and immediately hit it off. When Mike had the urge to start a group inspired by the '90s alt-rock favorites of his childhood (Faith No More, Nirvana, Alice in Chains) he knew exactly who to call.
The band has been charging forth ever since. On February 26, they opened for seasoned punk rocker Bob Mould at the Gothic Theatre.  
Given Mike's life-changing experience with Led Zepplin growing up, he understands the powerful effect music can have on kids. Mike and Leny agree that Youth on Record is one of the most important non-profit organizations in Denver. It's ability to use music to educate and inspire under-served teens can't be denied.
Below, Mike discusses The Trujillo Company's origins, hanging out with Bob Mould, and what's next.
The Trujillo Company has been pretty focused since starting. What's is your main goal as a band?
Mike Trujillo: We want to make people move. We want to make that connection on a spiritual, tribal level. Rock and roll is definitely in our blood. It's been nice to let our hair down and let the people feel it.
How did you end up opening for Bob Mould at The Gothic Theatre?
MT: We've been very fortunate over the last few months. We've had some great shows with Larimer Lounge and Lost Lake, and really proved our worth drawing people to those shows. [AEG] asked us if we wanted to open for Bob Mould. Within a few days, they made it official and got us on the show. It was such a surreal moment because Bob is a legend of punk rock music. To play with someone who has a career span of 30 years, that's pretty dang incredible.
What was the show like?
MT: It was really cool. We got to see Bob interact with the fans up until sound check. There were people waiting outside with bags of vinyl and he signed everyone of them, plus listened to their stories of how his music changed their lives. He let us go backstage. I heard him dial in his guitar tone, which was like watching da Vinci mix his paints [laughs]. The craziest part was: he put us on his website, displaying us as his opening act! It's one thing for an opener to say you're on the show, but another to display us.
Youth on Record will soon display a video of your show with Bob Mould on its Platinum Music Ambassador webpage. Are you excited?
MT: Yes! It's so great. We've been so fortunate during the last year to play shows to raise money for Youth on Record. It's nice to see our hard work going to something that will help kids. It's special to know that we're spreading the joy of music to the youth of tomorrow. When you can see the results of what you've done to help, it's totally gratifying.
Why did you decide to help Youth on Record by becoming a Music Ambassador?
MT: The biggest thing was knowing that, if we have the opportunity to get our name out there as much as possible, we can represent Youth on Record at the same time. There's always a show where we can say, "hey, we are ambassadors for this program," and spread the word of what Youth on Record is about.
How does Youth on Record's mission speak to you?
MT: I think back to when I was a kid. If I had mentorship and hands-on experiences with people in the music industry, I think it would have had a much greater effect on me. Being able to go into the space to see how the kids work and how they form a bond over music — it's really impressive. Youth on Record also has a studio, so if someone wants to lay down a beat or some flows, they can. Something like recording can be so daunting and scary, but there's no question too big or too small at Youth on Record. It's nice to know kids have a place to learn, in an environment of support.

What's next for The Trujillo Company?
MT: We just flew out to Los Angeles and recorded our debut full-length, due out in June. The producer is Manny Nieto [who has worked with bands like Health and Tobacco]. He's known Leny for almost 25 years. We were supposed to go to Chicago and record at Steve Albini's Electrical Audio, but the "polar vortex" happened and we weren't able to. So Manny said if we were willing to go to LA, we could record. We stepped outside of our box here in Denver because we want the first thing that hits to be something we're proud of.
The Trujillo Company plays The Marquis Theatre on April 13. Listen here.