January 30, 2020
Big Gigantic, The String Cheese Incident to Benefit Youth on Record with Special Vinyl Album
The sounds of Colorado's finest local musicians have come together once again all on one vinyl. Big Gigantic, The String Cheese Incident, 10  other talented artists and this year's chosen cover artists, Denver's well-known muralist Rumtum, have teamed up for 303 Music Vol. 3. This special vinyl record benefits communities in need by donating 25% of proceeds to Youth on Record. Youth on Record (YOR), is a non-profit organization that believes in the critical role music plays in our lives. Through in-school classes, coaching by local professional musicians, and open recording studios, they use music to positively impact the lives of 1,000 underserved teens in Denver's most vulnerable communities. 303 Magazine believes in YOR's mission and their innovative approach so does many of our local bands. This isn't the first time Big Gigantic has teamed up with Youth On Record. "A Big Gigantic Difference Foundation" provided Youth On Record students with a digital computer lab fully equipped with audio gear and software. Help us give back to our beloved community and support the Colorado art and music scene by spreading the word and purchasing a record!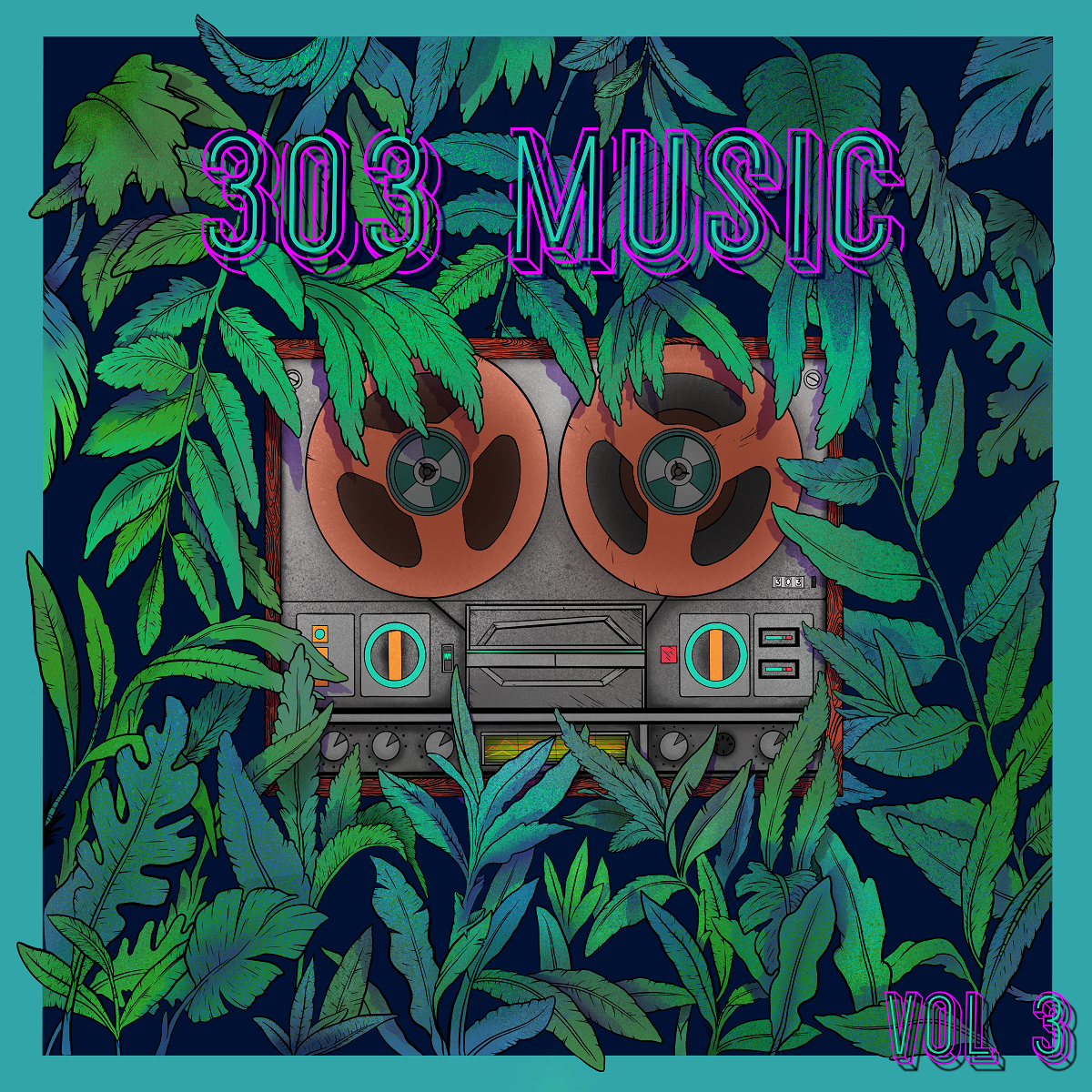 Cover art designed by Rumtum 
"This focus on leveraging the arts to inspire at-risk young people to re-engage in their education and graduate, while providing advanced job skills and opportunities in the creative industries, makes YOR one-of-a-kind." – Jami Duffy, Executive Director at YOR

"303 Music Volume 2 benefits Youth on Record in two ways. From a Visibility perspective, being a part of this project gives us the opportunity to be connected to new artists within the community. This also gives us a platform to tell our story to 303 Magazine's reader. From a financial perspective, every dollar raised will continue to fuel the work we are doing in the community."  – Andrea Murphy, Director of Visibility and Operations YOR
The record is now available for presale with an official release date of March 3, 2020 (303 Day) for only $23.99.
The tracklist below features some Colorado favorites, carefully hand-selected by the 303 Magazine team.
"High To Low" – Brent Cowles,

"California" (live) – Heavy Diamond Ring,

"The Hustle" – Kiltro

"Keeps Me Coming Back" – Nina and the Hold Tight,

"Sunset Bay Cafe" – Adiel Mitchell

"Friends" – Big Gigantic (feat. Ashe)

"All Night Long" – Tnertle

"Beacon (Super Team Super Friends Dance League Activate!)" – Retrofette/ Babelord

"Issues" – YaSi

"Spirit" (Live from Etown Hall) – LVDY

"Dancing On My Knees" (Live at Liars Club) – The Yawpers

"The Big Reveal" (Live at Red Rocks Amphitheater) – The String Cheese Incident
Contact Information:
For more information, please contact Kate Poueymirou at kate.poueymirou@303magazine.com
How to Purchase: