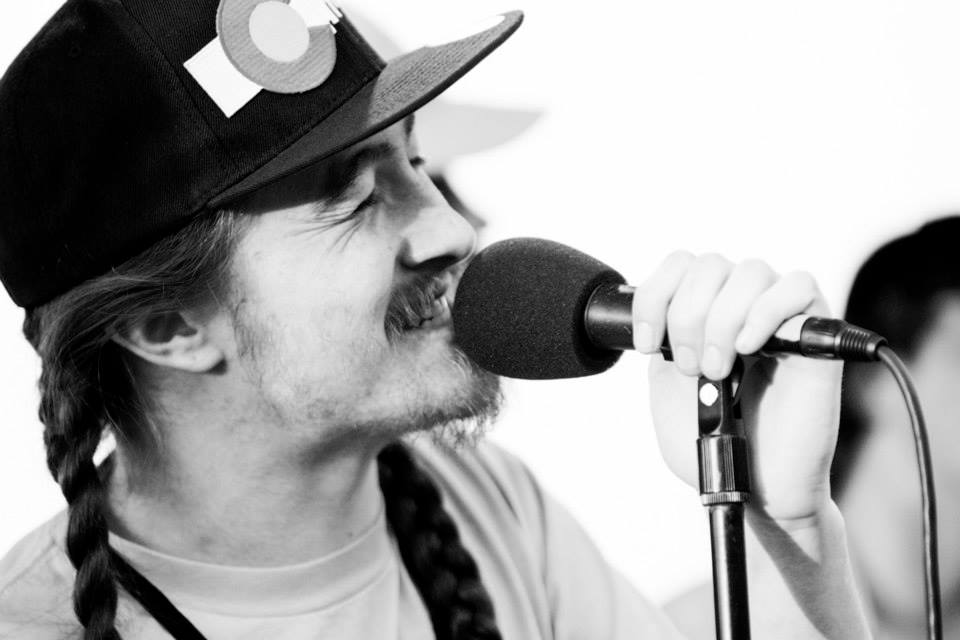 Elijah Lynch, also known as Smiley Gatmouth, is a multidisciplinary artist who got his start in Denver, Colorado's rich spoken-word community. His emergence into the intersecting worlds of arts, activism and community-cultivation began in middle school, when he became a regular at community hubs such as The Mercury Cafe, Slam Nuba and the Floboots.org community center. After becoming a member of the Minor Disturbance Youth Slam team in 2009, Elijah began performing, teaching and traveling regularly while still in high school. The support he received from local artist-communities helped provide him with both a strong foundation and a firm commitment to service-work. Upon graduating as the poet Laurette of Jefferson County Open High School, Elijah had gone on tour, founded the 7 Block Open Mic and been awarded the First Wave Urban Arts full-tuition scholarship to the University of Wisconsin—Madison. His involvement in the First Wave allowed him to expand the scope of his work and develop his craft immensely; he studied under a plethora of world-renowned artist and educators, developed work in a wide range of genres and formats, and accumulated nearly a decade of experience as a professional teaching-artist.
         Elijah's time in First Wave also allowed him to make major strides as a practitioner of art. In Madison, he was consistently booked for local concerts, university events and private affairs, and was also a regular performer at the city's most prominent annual Theatre and Music festivals. As[AM1]  a solo-artist, band-member and two-time First Wave Touring Ensemble Selected Artist, he frequently traveled the country to perform a multitude of poetry-features, live-music venues and national-conferences including the NCAA National Conference, the National Council of English Teachers Convention and the Boys & Girls Club Keystone Conference. Finally, the opportunities afforded to him by First Wave allowed Elijah to perform at various venues in Europe, most notably as a resident lead-vocalist for the infamous Jazz Club in Florence, Italy. Elijah has been fortunate enough to create in coalition with countless excellent artists over the years; his collaborators have included Grammy-winning musicians Juan de Marcos (Juan de Marcos and the Afro-Cuban All Stars) and Greg Doby (Gynx), seasoned contemporary poets like Saul Williams, Danez Smith and Ken Arkind, and internationally-recognized figures of various disciplines such as Chris Walker (Dancer, Jamaica) and Faisal Abdu'allah (multi-disciplinary/visual-artist, UK). His poetry has been featured on HBO, his band-work has appeared on PBS's 30-Minute Music Hour w/ Andy Moore, and his solo-music has been play-listed by Pitchfork.
         Elijah's work as an educator is similarly vast in nature. It has included regular-instructor positions with organizations like The Boys & Girls Club of Dane County (Madison), The JVN Project (Madison) and Creative Strategies for Change (Denver). However, it has more often consisted of being featured as guest-facilitator for youth organizations, schools and government-programs. Among the hundreds of guest-facilitator experiences Elijah has collected over the years, YCA (Young Chicago Authors—Chicago), GetLit LA (Challenger Detention-Center Camps—Los Angeles), Brave New Voices (International YouthPoetry Conference—location varies by year) and the B&GC Keystone Conference (Boys & Girls Club Annual Conference for Selected Students, Los Angeles) are among a few. He has also returned to Minor Disturbance to serve in several capacities over the years, most recently as a coach for the 2017 Denver Youth Poetry Slam Team. On top of teaching for youth-based institutions, Elijah has served as an instructor for older-groups as well; he has served as a guest-lecturer on critical-race & media studies (CA 436: Race, Ethnicity & Media; University of Wisconsin—Madison), Effective Language Arts Pedagogy (National Council of English Teachers; Boston) and Culturally Relevant Pedagogy alongside Dr. Marc Lamont-Hill (Dr. Gloria Ladson-Billings 'Getting Real' Series; University of Wisconsin—Madison). His own art has been regularly utilized as an educational tool by Denver-area teachers for nearly a decade and has been studied in classes at Harvard University. In 2018, he founded The Lonesome Zeroes; a passion project dedicated to serving students, educators & artists through radical community collaborations. As a Youth on Record teaching-artists, he aims to extend the lessons, tools and opportunities he has been blessed with to the next-generation of Denver youth, and nurture the traditions of artistic mentorship that provided his life with purpose.