In 2017, YOR joined a cohort of nonprofits and school districts across the United States that are designing and implementing local models of Side-by-Side Coaching, an innovative new approach to music education. Thanks, in large part, to a three-year grant from the Country Music Association Foundation, YOR is designing a locally and culturally relevant curriculum that will be piloted in five schools during the 2018–2019 school year and additional schools in subsequent school years.
Through the Side-by-Side Coaching (SBSC) model, music educators in Denver Public Schools are paired with YOR Teaching Artists (industry professionals and professional musicians) and together they team teach music education classes and provide feedback and coaching to one another, based on curriculum and pedagogy created by YOR.
Emphasizing project-based learning, culturally responsive teaching, relevant benchmarks and innovative approaches to self- and peer-evaluation, YOR anticipates that students will emerge from this program with enhanced skills, abilities, and confidence. Further, YOR anticipates that educators will emerge with increased skills working with youth in urban environments, increased understanding of trauma-informed teaching and increased job satisfaction. SBSC is currently being implemented in several school districts throughout the U.S. YOR's approach, however, of using culturally relevant, professional Teaching Artists, is unique.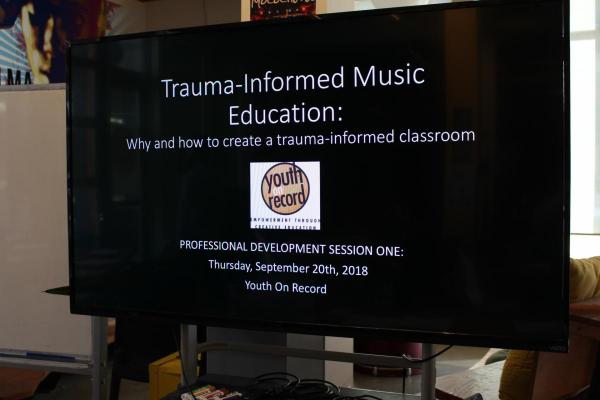 Professional Development Units
To prepare YOR Teaching Artists and DPS Music Educators to serve students together in the classroom, they participate in a Professional Development Unit written and facilitated by YOR that consist of the following four Professional Development Sessions:
Trauma Informed Music Education: Why and How to Create a Trauma-informed Classroom
Music Education as the Practice of Freedom: Culturally Relevant, Liberatory and Engaged Pedagogy 

Building a Foundation for Restorative and Transformative Approaches to Classroom Conflict through Nonviolent (Compassionate) Communication

Bridging the gap between Music Education and the Music Industry in and for the students and city of Denver
Check out our blog post from our first Professional Development Unit here